An Illinois200 Partner
#IllinoisProud
The Lincoln Academy of Illinois
MISSION STATEMENT
To honor individuals whose outstanding contributions to the betterment of mankind have been accomplished in or on behalf of the State of Illinois, or whose achievements have brought honor to the State because of their identity with it, whether by birth or residence, or by their dedication to those principles of democracy and humanity as exemplified by the great Illinoisan whose name we bear. These individuals, reflective of the diverse populace of the State of Illinois, are named Laureates of the Academy and receive the "Order of Lincoln," the State of Illinois' highest award, at an annual Convocation.
To honor one outstanding senior from each of the four year not-for-profit degree granting institutions and one outstanding senior from among all of the community college students who, in the spirit of Abraham Lincoln, demonstrated leadership and service in his or her campus or community and excellence in curricular and co-curricular programs, to be named Student Laureates and receive the Abraham Lincoln Civic Engagement Award and the Lincoln Medallion.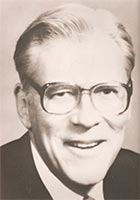 Our condolences to the family of Robert Malott (Class of 1995 Lincoln Laureate). Bob was a true original. He had a larger than life personality, a quick sense of humor, and lived his life with great passion, joy and purpose.
He and his wife, Elizabeth Hubert 'Ibby' Malott, a Regent of the Academy and instrumental in the design and development of the Student Laureate Program, were loyal allies of the organization for many years.