Tap or click items above to see news and more information.
An Illinois200 Partner
#IllinoisProud
The Lincoln Academy of Illinois
MISSION STATEMENT
To honor individuals whose outstanding contributions to the betterment of mankind have been accomplished in or on behalf of the State of Illinois, or whose achievements have brought honor to the State because of their identity with it, whether by birth or residence, or by their dedication to those principles of democracy and humanity as exemplified by the great Illinoisan whose name we bear. These individuals, reflective of the diverse populace of the State of Illinois, are named Laureates of the Academy and receive the "Order of Lincoln," the State of Illinois' highest award, at an annual Convocation.
To honor one outstanding senior from each of the four year not-for-profit degree granting institutions and one outstanding senior from among all of the community college students who, in the spirit of Abraham Lincoln, demonstrated leadership and service in his or her campus or community and excellence in curricular and co-curricular programs, to be named Student Laureates and receive the Abraham Lincoln Civic Engagement Award and the Lincoln Medallion.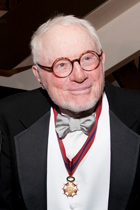 Our condolences to the family of Laureate Richard Gray. Mr. Gray and Mary Lackritz Gray were named Laureates as a couple in 2011 at a Convocation ceremony held on the University of Illinois Urbana-Champaign campus at the Krannert Center for the Performing Arts.
Richard Gray was a lifelong Chicagoan with an international reputation in the arts. The Richard Gray Gallery, founded in Chicago in 1963, is one of the leading dealers in modern and contemporary American and European art. The gallery was one of the first spaces in the city to show work by some of the day's most prominent artists, among them Jules Olitski, Morris Louis, Hans Hofmann, Louise Nevelson, and Jim Dine, as well as works by modernists like Fernand Léger, Pablo Picasso, Josef Albers, Milton Avery, and many others. Other artists to show at the gallery would include Andy Warhol, Philip Guston, Roy Lichtenstein, Agnes Martin, Mark Rothko, and Richard Diebenkorn.
Richard was a Life Trustee of the Art Institute of Chicago, the Chicago Symphony Orchestra, the Goodman Theater, and the Founding Vice-Chairman of the Chicago Humanities Festival. He was former president of the Art Dealers Association of America and the Chicago Art Dealers Association and was vice chairman of the Friends of the Farnsworth House, where he helped oversee the preservation of its Mies van der Rohe–designed building.
In 2008, the Art Institute named a wing after Gray and his wife, Mary; the museum's holdings include prints and drawings by Peter Paul Rubens, Eugène Delacroix, Henri Matisse, and others that previously belonged to the couple. Three years later, the couple gave $5 million to the University of Chicago, which went on to form the Richard and Mary L. Gray Center for Arts and Inquiry, a forum that continues to promote art-historical research.
Colleagues Remember the Late Art Dealer Richard Gray – artnet News