Tap or click items above to see news and more information.
Paul Findley Obituary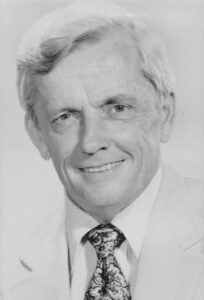 Paul Findley, Class of 1980 Lincoln Laureate, an 11-term Republican congressman from Illinois who was known for supporting civil rights and opposing the Vietnam War, died Aug. 9 at a hospital in Jacksonville, Ill. He was 98.
Mr. Findley was the publisher of a small-town weekly newspaper when he was elected to the U.S. House of Representatives in 1960. Being a native of the Land of Lincoln, he often invoked Lincoln in his campaign rallies and could quote his speeches from memory.
During his 22 years in Congress, Mr. Findley served on the Agriculture Committee and the Foreign Affairs Committee, while cultivating an image as something of a maverick. He was a "conservative Republican" when he first ran for Congress, but he consistently supported civil rights legislation proposed by Democratic President Lyndon B. Johnson in the 1960s. In 1965, Mr. Findley appointed the first African American page in the House of Representatives.
Mr. Findley was a Navy veteran of World War II, an author of the War Powers Act, and pushed for federal farm subsidies, introduced a resolution to begin impeachment proceedings against Vice President Spiro Agnew, who later resigned amid a corruption scandal.
In 1974, Mr. Findley helped obtain the release of a schoolteacher from his district who had been arrested in South Yemen and charged with being a spy. In his travels, Mr. Findley visited refugee camps and reached out to Arafat and other Arab leaders. At the time, Arafat's Palestine Liberation Organization was designated a terrorist group by the U.S. government. Mr. Findley did not support recognition of the PLO, but he said in 1980 that "it makes sense for us to talk to the PLO, to communicate with them and try to influence their behavior. It would reduce tension and conflict in that area. We can't wish the Palestinians away — they're a fact."
TV Air Dates of 2018 Rockford Convocation
Additional stations/dates to come:
WTTW-Chicago, WEIU-Charleston, and WILL-Urbana will be setting air dates in the near future.
(The program previously aired on WSIU-Carbondale and WUSI-Olney Tuesday, Dec. 12 at 7 p.m.)
2020 LAUREATE CONVOCATION
Saturday, April 18, 2020 in Normal on the campus of Illinois State University – Civic Committee Chairs Mrs. Marlene & President Larry Dietz
Frank Clark, Chancellor, and The Honorable Jay Robert "J.B." Pritzker, President of The Lincoln Academy of Illinois
The Lincoln Academy of Illinois
MISSION STATEMENT
To honor individuals whose outstanding contributions to the betterment of mankind have been accomplished in or on behalf of the State of Illinois, or whose achievements have brought honor to the State because of their identity with it, whether by birth or residence, or by their dedication to those principles of democracy and humanity as exemplified by the great Illinoisan whose name we bear. These individuals, reflective of the diverse populace of the State of Illinois, are named Laureates of the Academy and receive the "Order of Lincoln," the State of Illinois' highest award, at an annual Convocation.
To honor one outstanding senior from each of the four year not-for-profit degree granting institutions and one outstanding senior from among all of the community college students who, in the spirit of Abraham Lincoln, demonstrated leadership and service in his or her campus or community and excellence in curricular and co-curricular programs, to be named Student Laureates and receive the Abraham Lincoln Civic Engagement Award and the Lincoln Medallion.
The
Order of Lincoln
honors individuals whose contributions to the betterment of humanity have been accomplished in Illinois, or whose achievements have brought honor to the state because of their identity with it, whether by birth or residence. It is the state's highest award for professional achievement and public service.
Funds raised at the Academy's Order of Lincoln Convocation help provide the Abraham Lincoln Civic Engagement awards and the 'Lincoln Medallion' which will be presented by the Academy's President to each of 57 Student Laureates at a separate ceremony held in Springfield later this year.
Thus, the Lincoln Academy honors the Great Citizens of Today and Celebrates the Great Citizens of Tomorrow — knowing that now, as always, our state and nation need what Vachel Lindsay called 'Lincoln-hearted' men and women.
Mr. Lincoln would be proud.