In Recognition of the Illinois Bicentennial
The Lincoln Academy of Illinois
Is Proud to Present All Honorees of the Order of Lincoln
Our State's Highest Honor
From 1964 to the Present Day
Laureates are named in the year prior to each induction. Laureates are listed here by the year of induction.
* – indicates deceased
1966
George Wells Beadle, 1966 Laureate * – Science and Education
George Wells Beadle was awarded the Nobel Prize in 1958 for his co-discovery of the role of that genes have in enzyme reactions, a key breakthrough in the world of genetics. A short time later Beadle was elected Chancellor of the University of Chicago, and then President of the University.
Edwin Carlos (Bill) Berry, 1966 Laureate * – Business
Edwin Carlos "Bill" Berry moved up through the ranks of the National Urban League and made Chicago the Urban League's largest affiliate by 1958. Calling Chicago America's most segregated city, Berry was a key force in the Civil Rights movement of the 1960s and helped organize a 1964 rally in the city by the Rev. Dr. Martin Luther King, Jr.
Rev. Edgar Hugh Storer Chandler, 1966 Laureate * – Religion
A Congregational minister, World War II U.S. Navy chaplain, and Church Federation of Greater Chicago leader, the Rev. Edgar H.S. Chandler worked hand-in-hand with the Rev. Dr. Martin Luther King Jr. and other Civil Rights giants of the 1960s. He also inspired many as a teacher at the Chicago Theological Seminary, including the Rev. Jesse Jackson.
Everett McKinley Dirksen, 1966 Laureate * – Government
Pekin native Everett McKinley Dirksen is one of the most well-known political leaders from Illinois. He served in the U.S. House of Representatives, was the U.S. Senate Minority leader from 1959 to 1969, and helped write and pass the Civil Rights Act of 1964. Dirksen emerged as one of the most prominent national figures of the Republican Party during the 1960s.
Marshall Field IV, 1966 Laureate * – Business
Marshall Field IV was a U.S. Navy World War II hero who returned home to Chicago after the war and helped shape the modern newspaper business. Field learned the newspaper trade as a reporter for the Chicago Sun, and took over ownership of the Chicago Sun-Times upon his father's death in 1956, owned Parade magazine from 1956 to 1958, and purchased the Chicago Daily News in 1959.
Carol Fox, 1966 Laureate * – The Performing Arts
Carol Fox became the first impresario of the Chicago Lyric Opera in 1954 and is credited with restoring Chicago's operatic glory. Fox studied opera in Europe in 1950 and returned home to lead the dynamic rebirth of the resident company at the Chicago Civic Opera, playing an active role in the world-renowned performing venue for more than 30 years.
George Stanley Halas, Sr., 1966 Laureate * – Business and Sports
George Halas, nicknamed "Papa Bear," was the founder of the Chicago Bears football team and was one of the co-founders of the National Football League in 1920. Halas was one of the first 17 inductees into the Pro Football Hall of Fame in 1963, and was also a Major League Baseball player.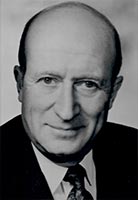 Ben Walter Heineman, Sr., 1966 Laureate * – Business
Ben Heineman was a lawyer, corporate leader and key Civil Rights adviser to President Lyndon Johnson. Heineman was chief of the Chicago and Northwestern Railway for 30 years and turned a money-losing company into a very profitable and efficient railroad. In 1966, when racial strife was at its worst, Mayor Richard J. Daley appointed Heineman as chairman of the Chicago Civil Rights Summit Conference on Fair Housing.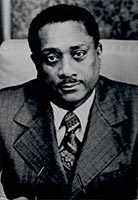 John Harold Johnson, 1966 Laureate * – Business and Communications
John H. Johnson was the founder of Johnson Publishing Company in Chicago and in 1982 he became the first African American to appear on the Forbes 400 list. Johnson founded Ebony in 1945 and Jet in 1951, magazines that were among the most influential African American media during the 20th century.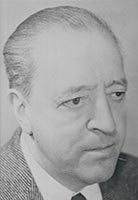 Ludwig Mies van der Rohe, 1966 Laureate * – The Arts
Ludwig Mies van der Rohe is widely regarded as one of the world's pioneers of modernist architecture. Mies was born in Germany, fled the country after Nazism's rise to power, and settled in Chicago, where for 31 years he designed many of the buildings that now define the city's skyline. Mies' towers and homes reflected his philosophies of "less is more" and "God is in the details."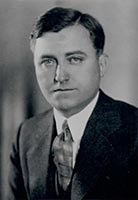 Karl Albert Meyer, 1966 Laureate * – Medicine
Dr. Karl Albert Meyer served 53 years at Cook County Hospital in Chicago as an administrator, surgeon and teacher and was widely regarded as one of the city's best surgeons. He reportedly performed more than 100,000 surgeries, often ten per day, and he helped advance the hospital's national reputation in many areas of medicine.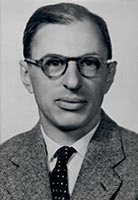 Franklin Faller Offner, 1966 Laureate * – Science
Born in Chicago, Franklin Offner was a prolific inventor of electronic medical and surgical devices, including the electrocardiograph, as well as infrared guided missiles and aircraft engine systems. He holds patents for electronics, control and hydraulics systems, and has won numerous awards and fellowships from medical and engineering organizations.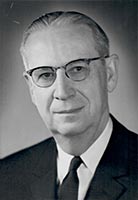 James Michael Roche, 1966 Laureate * – Business
James M. Roche joined General Motors Corporation in 1927 in the Chicago sales and service branch and rose through the ranks to president of the corporation in 1965. Roche dedicated himself and the company to ensuring equal employment opportunities for all races and helped seat the first black member, a civil rights minister, on GM's board.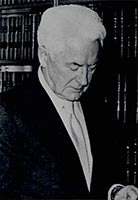 Walter Vincent Schaefer, 1966 Laureate * – Government and Law
Walter Schaefer served on the Illinois Supreme Court from 1951 to 1976 and was widely regarded as one of the leading scholar-judges on the nation's state courts. His Federalism and State Criminal Procedure, written for the Harvard Law Review, is still regarded as a top treatise on the American system of justice. Schaefer was a law professor at Northwestern University and returned there to teach after retiring from the bench.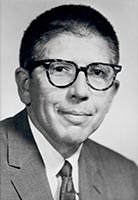 Robert Martin Trueblood, 1966 Laureate * – Business
Robert Trueblood was a highly regarded Chicago accountant who authored several books on the profession and was part of President Lyndon Johnson's budget commission. Trueblood received numerous professional accolades during his working and teaching career, and his accounting principles books are still cited in CPA educational programs.
Benjamin Coppage Willis, 1966 Laureate * – Education
Benjamin C. Willis was Superintendent of Schools in Chicago in the 1950s an early 1960s and and was credited for cutting class size, streamlining new building construction, and getting higher teacher salaries. But he was also known for defying court-ordered desegregation and refusing to move black children into white schools, a stance that made him the target of Civil Rights era protesters.
1965
John Stephen Boyle, 1965 Laureate * – Government and Law
Chicago native John Stephen Boyle served as the first Chief Judge of the newly unified Cook County Court system that had received voter approval in the "blue ballot amendment." His lengthy and distinguished career also featured stints as a Chicago Alderman, prosecutor and Chief Justice of the Criminal Court.
Rudolph Ganz, 1965 Laureate * – The Performing Arts
Switzerland's most famous pianist, Rudolph Ganz called Chicago home for most of the 20th century and became a pioneer recording pianist, eminent composer, conductor, and music teacher. His compositions, concert appearances, and his classes at Roosevelt University's Chicago Music College brought delight to music lovers for decades.
His Eminence Albert, Cardinal Meyer, 1965 Laureate * – Religion
Cardinal Meyer came to Chicago in 1958 and emerged as a conspicuous leader of the Roman Catholic Church during a trying time of adjustment for the faith. He served as Archbishop of Chicago from 1958 until his death in 1965, and at the Vatican Council he earned respect for his staunch support of the "religious liberty of conscience" and his influence could be felt across all faiths, races and groups.
Richard Gibbs Browne, 1965 Laureate * – Education
Illinois native Richard Gibbs Browne held many statewide education leadership roles, including executive director of the Illinois Board of Higher Education, and his work in education research charted new paths in a time of stress, conflict and change in the state's school system. Browne was also an author, civic leader, and worked tirelessly to foster inter-governmental cooperation.
James E. Day, 1965 Laureate * – Business
James E. Day, an Illinois native, was a nationally known leader in the investment field and served as president of the Midwest Stock Exchange. His energy and imagination helped adapt the methods and machines of modern electronics to numerous technical and communication problems, saving time and money for millions of people.
Adlai Ewing Stevenson II, 1965 Laureate * – Government
Adlai Ewing Stevenson served as Illinois Governor, was a two-time Democratic Presidential nominee, and United Nations Ambassador. His lengthy public service career was distinguished by his intellect, urbane humor, and penetrating sense of purpose.
Joseph Leopold Block, 1965 Laureate * – Business and Law
Joseph Leopold Block was the head of Inland Steel Corporation, a business that employed more than 30,000 people in the Chicago area, and advised several U.S. Presidents on labor-management relations. The Chicago native was chosen by his peers to be the voice of the national steel industry, and Block championed numerous civic causes during his lifetime.
Ward Louis Quall, 1965 Laureate * – Communications
Ward Louis Quall was part of a new breed of professionals, radio and television broadcasters, that arose before World War II. During his tenure as head of WGN in Chicago the station won national recognition and awards as it set the decades-long standards that most broadcasters still follow today.
William Henry Mauldin, 1965 Laureate * – Communications
A Chicago Academy of Fine Arts alumnus, Bill Mauldin achieved worldwide fame for his newspaper cartoons of everyday American GIs experiencing World War II. Mauldin won Pulitzer Prizes in 1944 and 1958 for his work, and continued to live side-by-side with and portray U.S. soldiers during the wars in Korea and Vietnam.
John Bardeen, 1965 Laureate * – Science
John Bardeen teamed with two other scientists at Bell Telephone Laboratories to develop one of the great electronic advances, the transistor. He shared the 1956 Nobel Prize for his Theory of Superconductivity, and went on to teach physics and engineering at the University of Illinois.
Avery Brundage, 1965 Laureate * – Sports
Avery Brundage was an Olympic competitor who went on to direct the International Olympic Committee from 1952 through 1972, setting the highest standards for amateur athletics around the world. Brundage was educated in Illinois and lived in Chicago, and received honors across the globe for his work.
Nathan Mortimer Newmark, 1965 Laureate * – Science
Nathan Mortimer Newmark, a University of Illinois professor, achieved worldwide renown for his work involving structural design and earthquakes. Newmark also helped pioneer the U of I's use of computers in the 1950s and received the U.S. Presidential Citation of Merit and numerous global honors during his career.
William Allan Patterson, 1965 Laureate * – Business
William Allan Patterson headed Chicago-based United Airlines from 1934 to 1966, continually helping to improve the aviation industry and airport operations across the country. Patterson was also credited for introducing the concept of the flight attendant, and was well-known as a civic leader and philanthropist for numerous Chicago-area causes.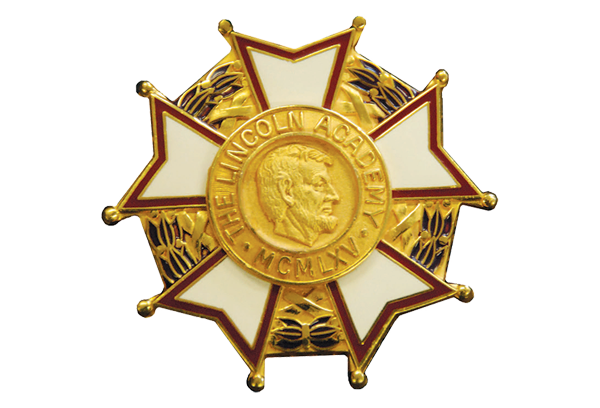 The Lincoln Academy of Illinois was established in 1964 to identify and honor exceptional Illinoisans whose contributions have brought honor to the state and have advanced the betterment of humanity. Individuals so honored become Laureates of the Lincoln Academy and receive The Order of Lincoln, Illinois' highest award for professional achievement and public service. Laureates are presented the Order of Lincoln at a convocation ceremony held in the spring of each year.
In 1975, the mission of The Lincoln Academy was expanded to include a Student Laureate program honoring more than 50 students each year, one from each four-year college and university in Illinois and one student representing our state's community colleges, selected on the basis of demonstrated exemplary leadership and service and excellence in curricular and co-curricular programs. Funds raised at the Academy's Order of Lincoln Convocation Ceremony in the spring help provide the Abraham Lincoln Civic Engagement awards and the "Lincoln Medallion" presented to each of the student laureates at a separate ceremony held each fall in Springfield.
The Lincoln Academy is an Illinois200 Partner, #IllinoisProud, and during the state's Bicentennial year we recognize our Laureates whose distinguished achievements and contributions have significantly shaped the social, cultural, business, political, economic, artistic, technological and scientific fabric of Illinois and beyond.
You will see brief biographical sketches appearing at the rate of several per week this year that will highlight each of our 337 Laureates from the past 54 years. We hope you will be inspired by their lives and reinforce your sense of pride in our great state.